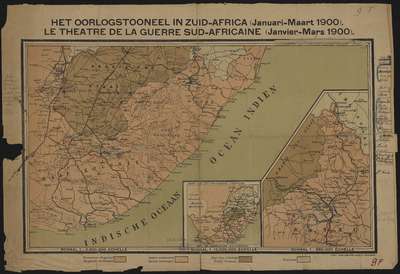 Het Oorlogstooneel in Zuid-Africa (januari-maart 1900).
Author(s), creator(s), collaborator(s) :
Type of the represented object : Map
Détails
Translated title:
Le Théâtre de la guerre sud-africaine (janvier-mars 1900)
Editor:
Lith. van Os-De Wolf
Place of creation of the original object:
Anvers (Belgique)
First publication of the original object:
20th century
Contemporary time (1789-20..)
Original object location:
Réseau des Bibliothèques
Identifiant(s):
9F (cote ULiège)
701104184 (code-barres ULiège)
Original object language:
Dutch, Flemish
French
Abstract:
Echelle : 1: 2 500 000
Encart : une carte à l'échelle 1:15 000 000 et une carte à l'échelle 1:850 000
Légence reprenant les symboles utilisés pour représenter les possessions anglaises, les autres possessions, l'Etat libre d'Orange, le Transvaal
Material, support of the original object:
Papier
Dimensions, weight or duration:
35 x 56 cm
Physical description of the represented object :
1 carte : couleurs.
Geographical Location represent or evoke:
Afrique du Sud
Period or event mentioned:
Guerre des Boers (1899-1902)
CREF classification(s):
Histoire
Sciences de la terre et du cosmos
Classification(s):
Arts & humanities => History
Sciences sociales & comportementales, psychologie => Geographie humaine & démographie
Part of:
Public domain
Permalink:
https://hdl.handle.net/2268.1/2424
Items in DONum are protected by copyright, with all rights reserved, unless otherwise indicated.