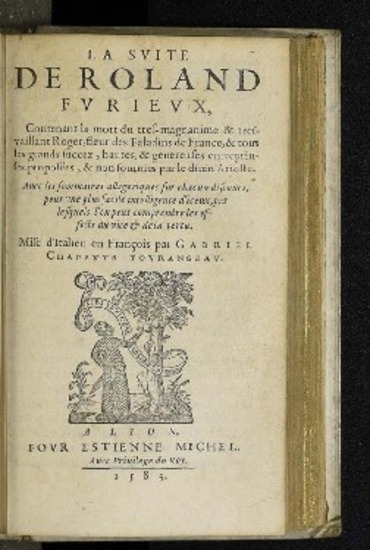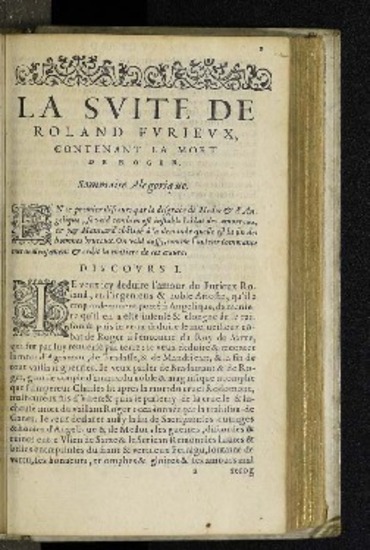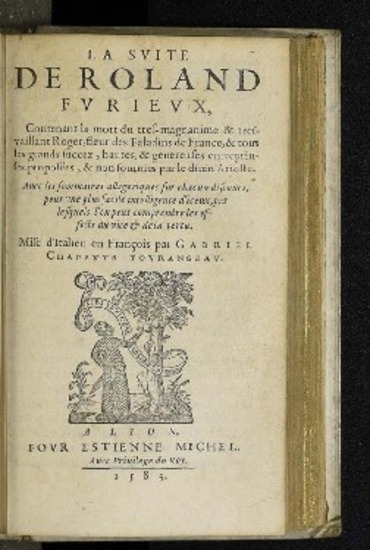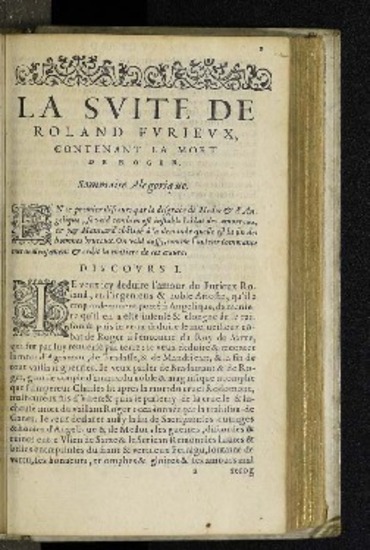 La suite de Roland furieux, contenant la mort du tres-magnanime & tres-vaillant Roger, fleur des Paladins de France, & tous les rands succez, hautes, & genereuses entreprinses proposées, & non fournies par le divin Arioste. Avec les sommaires allegoriques sur chacun discours, pour une plus facile intelligence d'iceux, par lesquels l'on peut comprendre les effects du vice & de la vertu.
Author(s), creator(s), collaborator(s) : Chappuys, Gabriel
Type of the represented object : Book
Détails
Original object location:
Réseau des Bibliothèques
Author(s), creator(s), collaborator(s):
Chappuys, Gabriel (1546?-1613?) (translator)
Editor:
[Lyon] : A Lyon, pour Estienne Michel
First publication of the original object:
1583
16th century
Modern times (1492-1789)
Place of creation of the original object:
Lyon (France)
Identifiant(s):
R50A (cote ULiège)
709604859 (code-barres ULiège)
Original object language:
French
Abstract:
L'exemplaire à la cote R50A en Bibliothèque principale est relié avec Le Roland Furieux.
Description:
Signatures : *⁴ a-z⁸ A-B⁸ C⁴

Empreinte: seir gede des, &bho (3) 1583 (A) (exemplaire ULiège)
Material, support of the original object :
Papier
Dimensions, weight or duration:
17 cm
8°
Physical description of the represented object :
8 pages non numérotées, 408 pages
CREF classification(s):
Lettres
Classification(s):
Arts & humanities => Literature
Original object linked resource:
Le Roland furieux
Other contributor(s):
Michel, Etienne (1578-1586) (printer-bookseller)
Part of:
Public domain
Permalink:
http://hdl.handle.net/2268.1/2419
Items in DONum are protected by copyright, with all rights reserved, unless otherwise indicated.