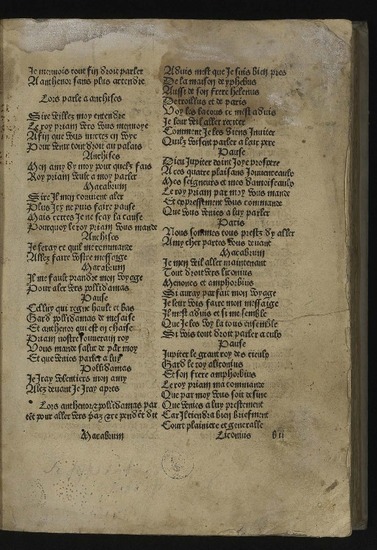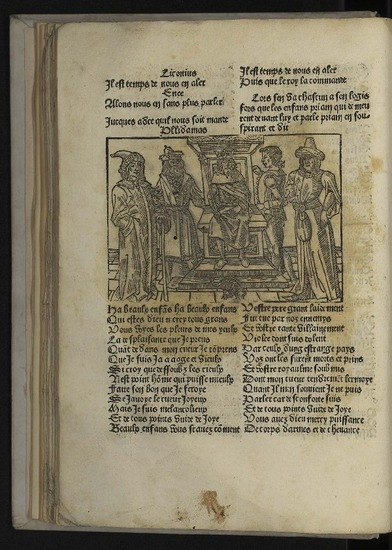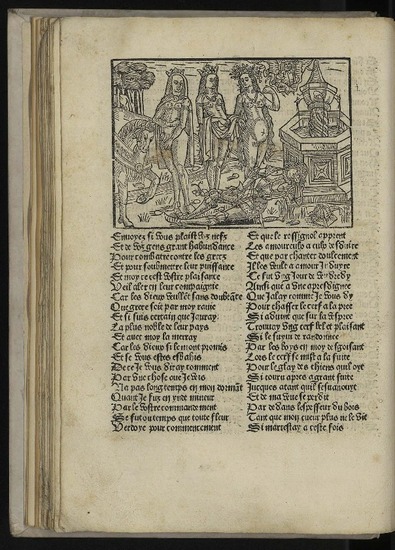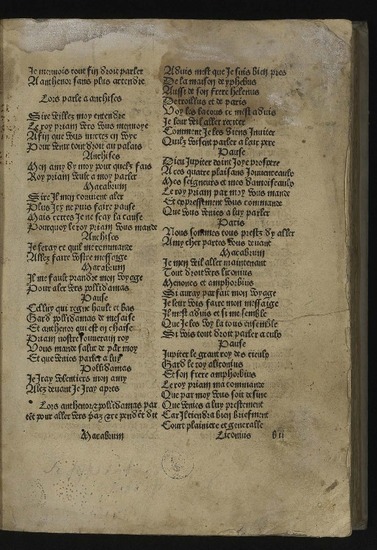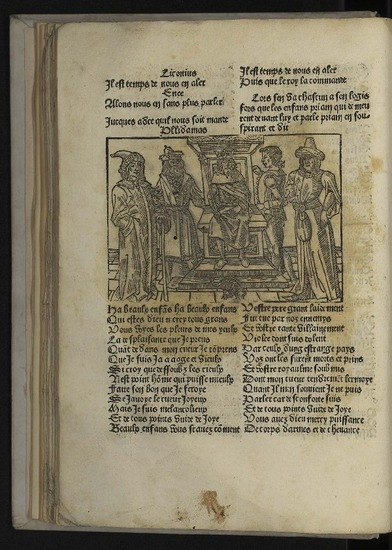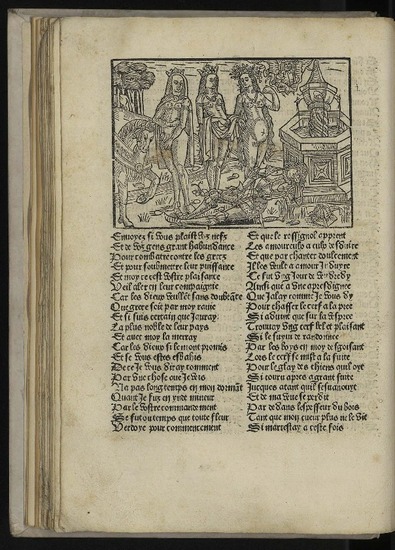 La destruction de Troye.
Author(s), creator(s), collaborator(s) : Milet, Jacques
Type of the represented object : Incunabula
Détails
Collection:
Incunabula
Original object location:
Réseau des Bibliothèques
Uniform title :
Histoire de la destruction de Troie la grant
Author(s), creator(s), collaborator(s):
Milet, Jacques (1425?-1466) (author)
Editor:
[Lyon] : [Guillaume Le Roy]
First publication of the original object:
1485
15th century
Middle age (476-1492)
Place of creation of the original object:
Lyon (France)
Identifiant(s):
XV.B148 (cote ULiège)
1736021-10 (code-barres ULiège)
Original object language:
Middle French (ca. 1400—1600)
Description:
Titre pris à l'ISTC
Mention de publication prise à l'ISTC
2 col. de 37 lignes ; caractères gothiques.
Signatures : a-z⁸ A-F⁸ g⁶

Notes sur l'exemplaire: Incomplet : les feuillets 1-9, 17 et 233-240 manquent. Double feuillet 18

Reliure en cartonnage recouvert de papier blanc cassé imitant le parchemin

Acquisition par l'Université de Liège : Legs Baron A. Wittert 1903
Material, support of the original object :
Papier
Physical description of the represented object :
[240] feuillets ; in-8.
Geographical Location represent or evoke:
Troie (ville ancienne)
Period or event mentioned:
Guerre de Troie
CREF classification(s):
Histoire
Classification(s):
Arts & humanities => History
Original object linked resource:
Polain(B) 4567
Other contributor(s):
Le Roy, Guillaume (printer-bookseller)
Wittert, Adrien (1823-1903) (donator)
Part of:
Public domain
Permalink:
http://hdl.handle.net/2268.1/2398
Items in DONum are protected by copyright, with all rights reserved, unless otherwise indicated.