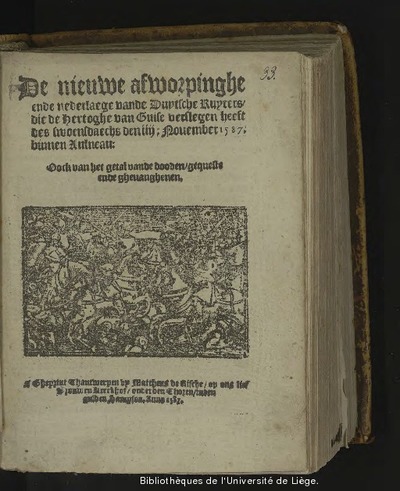 De nieuwe afworpinghe ende nederlaege vande duytsche ruyters die de hertoghe van Guise verslegen heeft des smoensdaechs den iiij november 1587 binnen Aulneau. Doch van het getal vande dooden gequeste ende ghevanghenen.
Author(s), creator(s), collaborator(s) :
Type of the represented object : Book
Détails
Editor:
T'Hantwerpen : by Mattheus de Rische
Place of creation of the original object:
Anvers (Belgique)
First publication of the original object:
1587
16th century
Modern times (1492-1789)
Original object location:
Réseau des Bibliothèques
Identifiant(s):
XXIII.24.7 [16°] (33) (cote ULiège)
700205010 (code-barres ULiège)
Original object language:
Dutch, Flemish
Material, support of the original object:
Papier
Physical description of the represented object :
Non paginé [6 p.]
CREF classification(s):
Histoire
Classification(s):
Arts & humanities => History
Original object linked resource:
Varia [volume factice] (XXIII.24.7 [16°])
Part of:
Public domain
Permalink:
https://hdl.handle.net/2268.1/2369
Items in DONum are protected by copyright, with all rights reserved, unless otherwise indicated.