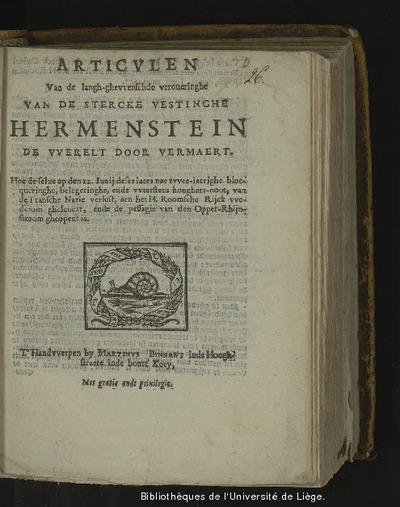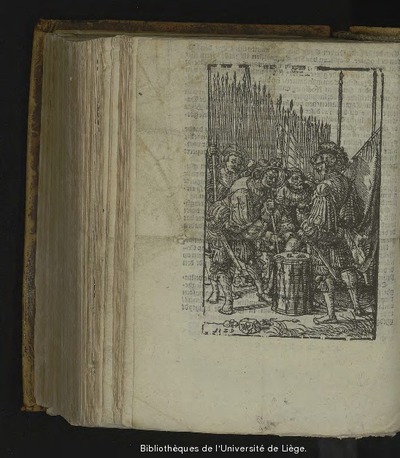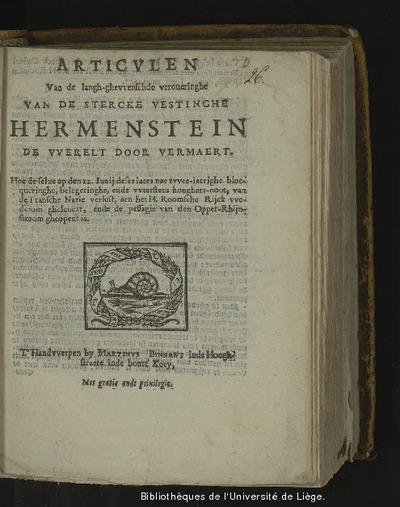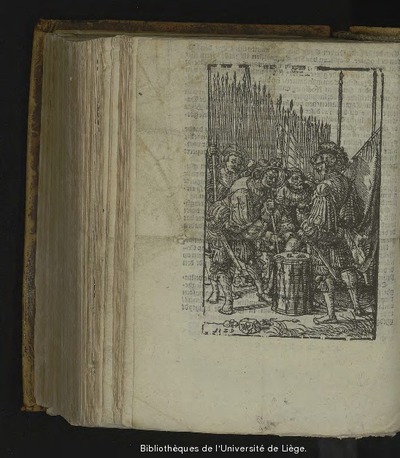 Articulen van de langh-gewenschde veroueringhe van de stercke vestinghe hermenstein de werelt door vermaert. Hoe de selve op den 12 junij deses iaers nae twee-iaerighe blocqueringhe, belegeringhe, ende vuterstens honghers-noot, van de fransche natie verlost, aen het H. Roomsche rijck wederom gheleuert, ende de passagie van den opper-rhijnstroom gheopent is.
Author(s), creator(s), collaborator(s) :
Type of the represented object : Book
Détails
Editor:
Te Handwerpen : By Martinus Binnart
Place of creation of the original object:
Anvers (Belgique)
First publication of the original object:
17th century
Modern times (1492-1789)
Original object location:
Réseau des Bibliothèques
Identifiant(s):
XXIII.24.7 [16°] (26) (cote ULiège)
700205010 (code-barres ULiège)
Original object language:
Dutch, Flemish
Material, support of the original object:
Papier
Physical description of the represented object :
Non paginé [2 p.] ; 1 gravure.
CREF classification(s):
Histoire
Classification(s):
Arts & humanities => History
Original object linked resource:
Varia [volume factice] (XXIII.24.7 [16°])
Part of:
Public domain
Permalink:
https://hdl.handle.net/2268.1/2361
Items in DONum are protected by copyright, with all rights reserved, unless otherwise indicated.