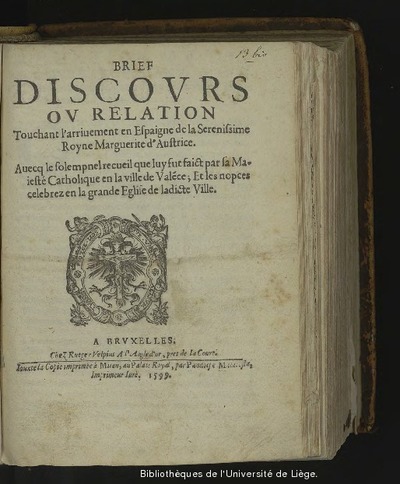 Brief discours ou relation touchant l'arrivement en Espaigne de la serenissime royne Marguerite d'Austrice. Avecq le solempnel recueil que luy fut faict par sa maiesté catholique en la ville de Valèce ; et les nopces celebrez en la grande église de ladicte ville.
Author(s), creator(s), collaborator(s) :
Type of the represented object : Book
Détails
Editor:
A Bruxelles : Chez Rutger Velpius
Place of creation of the original object:
Bruxelles (Belgique)
First publication of the original object:
1599
16th century
Modern times (1492-1789)
Original object location:
Réseau des Bibliothèques
Identifiant(s):
XXIII.24.7 [16°] (13bis) (cote ULiège)
700205010 (code-barres ULiège)
Original object language:
Middle French (ca. 1400—1600)
Material, support of the original object:
Papier
Physical description of the represented object :
Non paginé [12 p.]
Keyword:
Marguerite d'Autriche
CREF classification(s):
Histoire
Classification(s):
Arts & humanities => History
Original object linked resource:
Varia [volume factice] (XXIII.24.7 [16°])
Part of:
Public domain
Permalink:
https://hdl.handle.net/2268.1/2348

Items in DONum are protected by copyright, with all rights reserved, unless otherwise indicated.