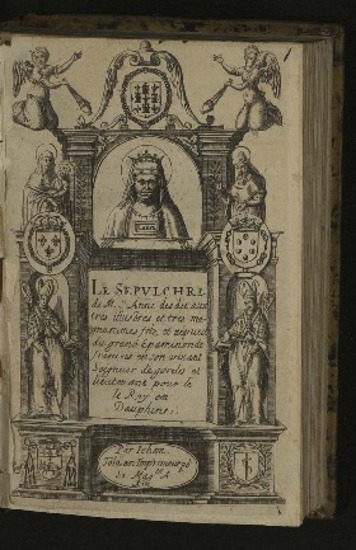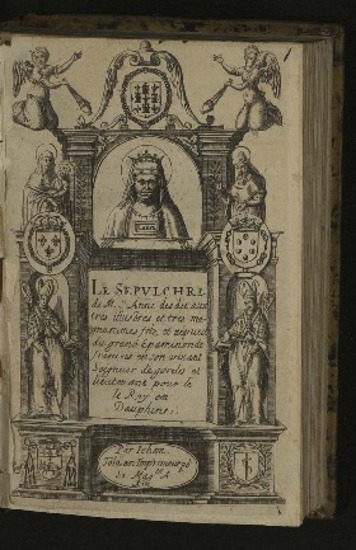 Le Sepulchre de M.S. Anne desdie aux tres illustres et tres-magnanimes fils et nepveu du grand Epaminonde françois en son vivant seigneur de Gordes, & lieutenant pour le Roy en Dauphiné.
Author(s), creator(s), collaborator(s) :
Type of the represented object : Book
Détails
Original object location:
Réseau des Bibliothèques
Abreviated title:
Le Sepulchre de Madame Sainte Anne
Editor:
A Aix : par Jehan Tolosan
First publication of the original object:
17th century
Modern times (1492-1789)
Place of creation of the original object:
Aix (France)
Identifiant(s):
XXII.87.8(W)(Objets divers 1) [16°] (cote ULiège)
700602042 (code-barres ULiège)
Original object language:
French
Description:
Les pages 12-13 de l'Oraison funèbre sont partiellement collées
Material, support of the original object :
Papier
Physical description of the represented object :
176 pages
Keyword:
christianisme; Eglise
CREF classification(s):
Théologie
Classification(s):
Arts & humanities => Religion & theology
Arts & humanities => History
Original object linked resource:
Recueil sur la ligue. Objets divers 1
Organization that sponsored the digitization:
Université de Liège - ULiège
Other contributor(s):
Tholosan, Jean (15..-1627) (printer-bookseller)
Part of:
Public domain
Permalink:
http://hdl.handle.net/2268.1/2277
Items in DONum are protected by copyright, with all rights reserved, unless otherwise indicated.