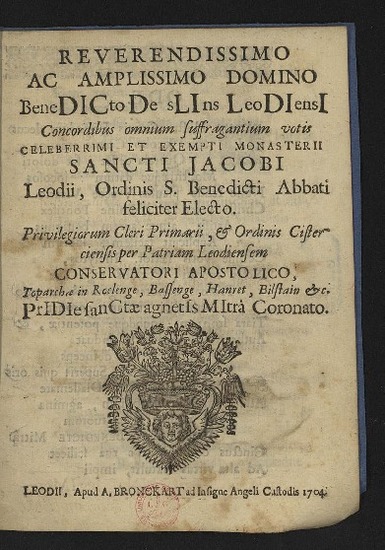 Reverendissimo ac amplissimo domino benedicto de Slins Leodiensi concordibus omnium suffragantium votis celeberrimi et exempti monasterii Sancti Jacobi Leodii, ordinis S. benedicti abbati feliciter electo. Privilegiorum cleri primarii, & ordinis cisterciensis per patriam leodiensem conservatori apostolico, toparchæ in Roclenge, Bassenge, Hanret, Bilstain &c. Pridie sanctæ agnetis mitrâ coronato.
Author(s), creator(s), collaborator(s) :
Type of the represented object : Book
Détails
Original object location:
Réseau des Bibliothèques
Editor:
Apud A. Bronckart
First publication of the original object:
1704
18th century
Modern times (1492-1789)
Place of creation of the original object:
Liège (Belgique)
Identifiant(s):
R860B(20) (cote ULiège)
ALMA29212 (code-barres ULiège)
Original object language:
Latin
Description:
Signatures : Π⁴.
Empreinte: uet, es,& s.es (3) 1704 (R) (exemplaire ULiège)
Material, support of the original object :
Papier
Dimensions, weight or duration:
18 cm
in-4
Physical description of the represented object :
8 pages
Keyword:
Privilèges et immunités ecclésiastiques; Liège (Principauté) -- Histoire; Cisterciens; Bénédictins
CREF classification(s):
Histoire
Théologie
Classification(s):
Arts & humanities => History
Arts & humanities => Religion & theology
Organization that sponsored the digitization:
Université de Liège - ULiège
Other contributor(s):
Bronckart, Arnould (printer-bookseller)
Part of:
Public domain
Permalink:
http://hdl.handle.net/2268.1/2182
Items in DONum are protected by copyright, with all rights reserved, unless otherwise indicated.