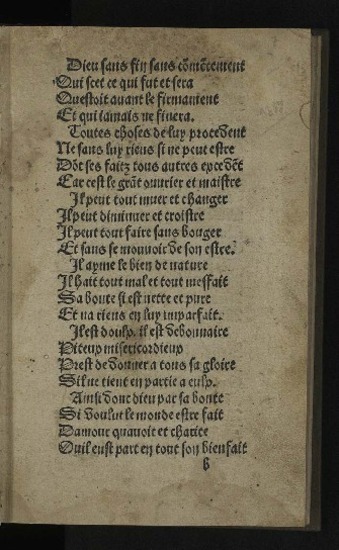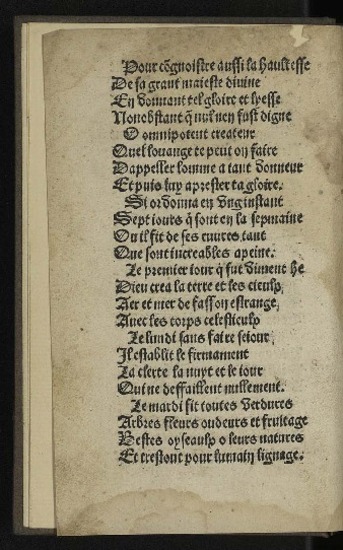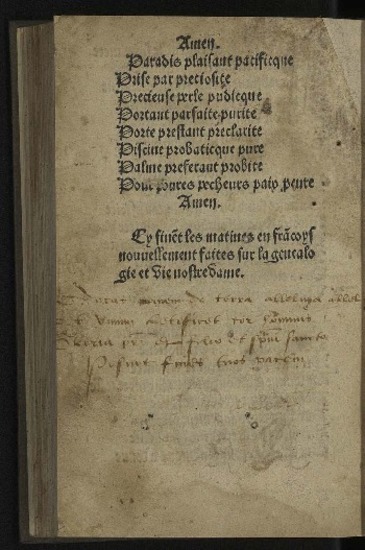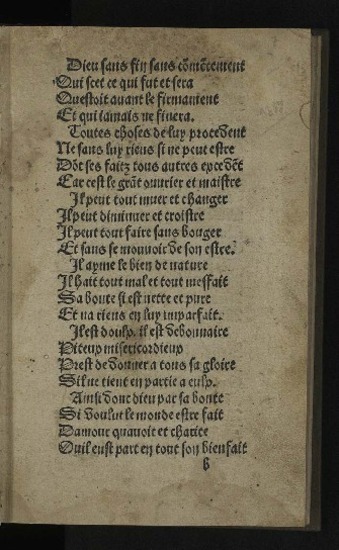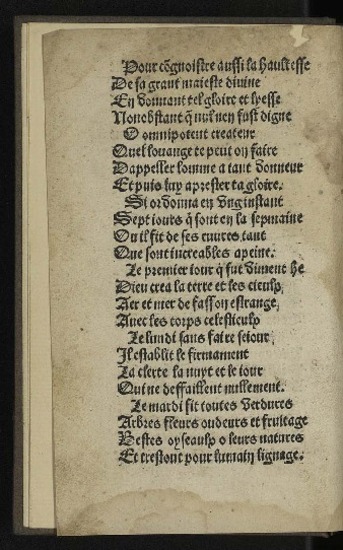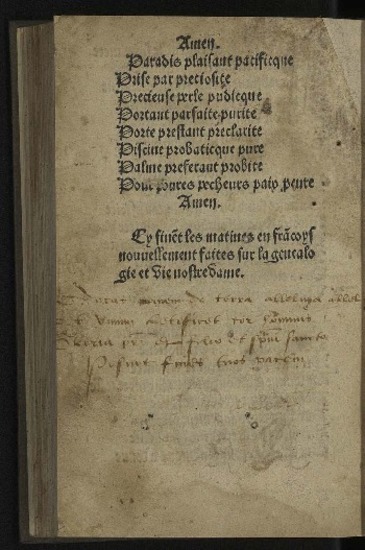 Matines en fra[n]coys nouvellement faites sur la genealogie et vie nostre dame.
Author(s), creator(s), collaborator(s) : Martial d'Auvergne
Type of the represented object : Incunabula
Détails
Uniform title :
Matines de la Vierge
Author(s), creator(s), collaborator(s):
Martial d'Auvergne (1430-1508) (author)
Editor:
[Lyon] : [impr. du Champion des dames = Jean Dupré ?]
Place of creation of the original object:
Lyon (France)
First publication of the original object:
1492
15th century
Modern times (1492-1789)
Original object location:
Réseau des Bibliothèques
Collection:
Incunabula
Identifiant(s):
XV.C238 (cote ULiège)
1725758-10 (code-barres ULiège)
Original object language:
Middle French (ca. 1400—1600)
Abstract:
Date de publication: [ca 1492]
Dimensions, weight or duration:
[126] feuillets ; in-4.
Description:
Titre pris à l'explicit
24 lignes ; caractères gothiques
Signatures : a-x⁶
Notes sur l'exemplaire: Les feuillets 1-6 et 115-120 manquent.
Empreinte: itte e.ns nene DuRe (C) 1492 (Q) (exemplaire ULiège)
CREF classification(s):
Théologie
Classification(s):
Arts & humanities => Religion & theology
Original object linked resource:
Polain(B), 4553
Part of:
Public domain
Permalink:
https://hdl.handle.net/2268.1/1641

XVC238_r.pdf
Description
: volume complet
Size
: 30.44 MB
Format
: Adobe PDF
Access type
: Open Access
Items in DONum are protected by copyright, with all rights reserved, unless otherwise indicated.