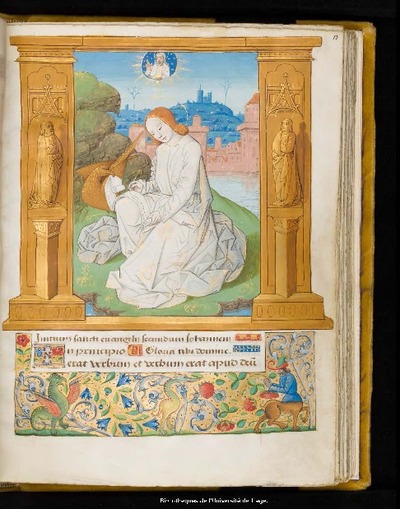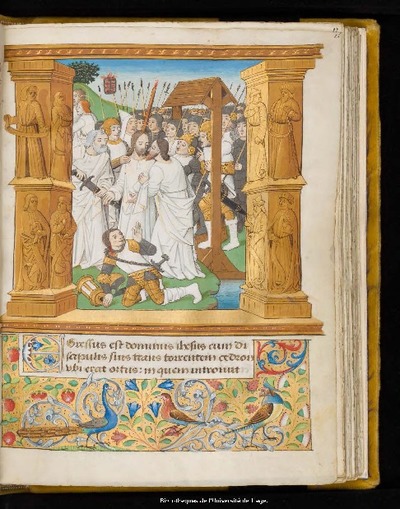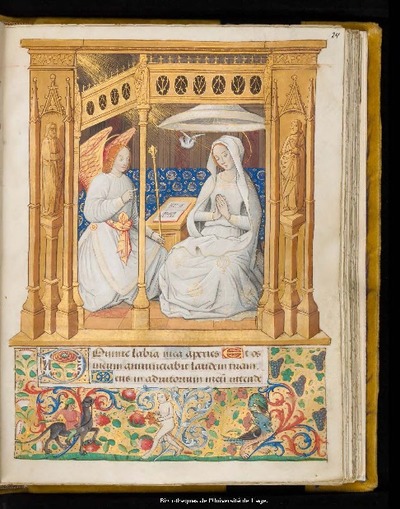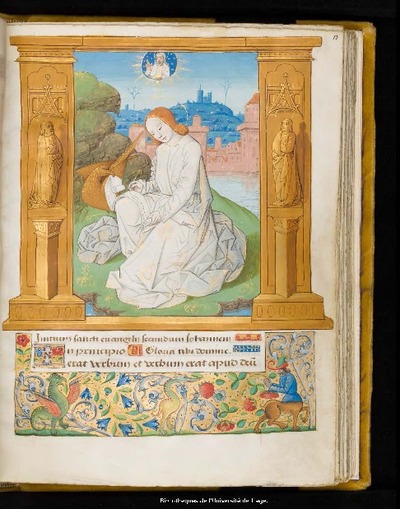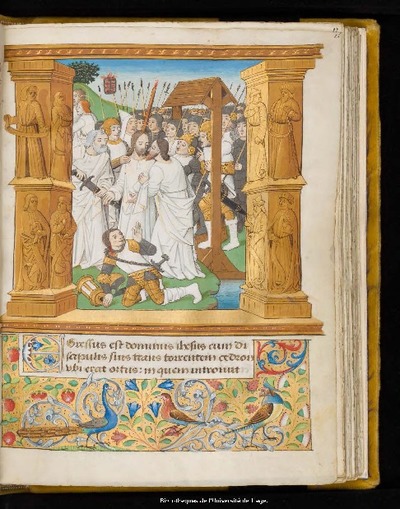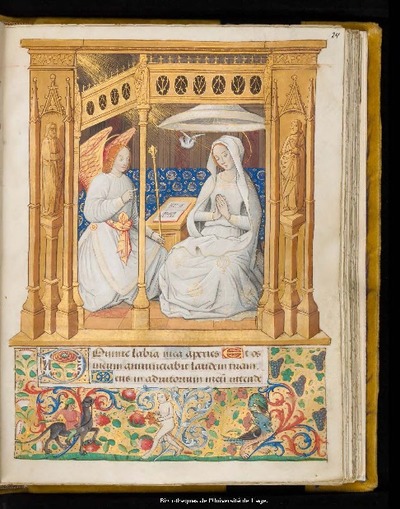 Livre d'heures.
Author(s), creator(s), collaborator(s) : Église catholique; Boyvin, Robert
Type of the represented object : Manuscript
Détails
Collection:
Books...
Original object location:
Réseau des Bibliothèques
Author(s), creator(s), collaborator(s):
Église catholique (author)
Boyvin, Robert (1470?-1536?) (illuminator)
Creation of the original object:
1495
15th century
Modern times (1492-1789)
Place of creation of the original object:
Rouen (France)
Identifiant(s):
MsW15 (cote ULiège)
1865191-10 (code-barres ULiège)
Original object language:
French
Latin
Abstract:
Livre d'heures à l'usage de Rouen enluminé par Robert Boyvin. Fin du XVe siècle, vers 1495-1503.
Contents, Summary of the original document:
F. 1-12v°, Calendrier en latin à la fin de chaque mois, 4 vers français et 4 vers latins ; f. 13-20v°, Evangiles ; f. 20-21v°, Les sept oraisons de saint Grégoire ; f. 21v°-23v°, Cinq oraisons de saint Jean l'Evangéliste et prières ; f. 24-53v°, Heures de la Vierge, Heures de la croix et heures du Saint-Esprit entremêlés ; f. 54-62v°, Les sept psaumes pénitentiaux et les litanies des saints ; f.62v°-76, Office des morts ; f. 76-89v°, Suffrages des saints, "O intemerata et Stabat mater".
Description:
Reliure en velours jaune sur ais de bois, traces de fermoirs, tranches dorées et ciselées.

Anciens propriétaires : N. Oranus MVI ( ?), Marie Jenne Dandoy, Marie-Ferdinande D'heur (1719), Collection F. Vergauwen (n°94, retiré de la vente), MC Vyt (libraire à Gand), Adrien Wittert.
Acquisition par l'Université de Liège : Legs Baron A. Wittert 1903
Material, support of the original object :
Vélin
Dimensions, weight or duration:
194 x 146 millimètres
Physical description of the represented object :
i, 89, ii feuillets. 26 lignes. Réglure. 15 grandes miniatures, 27 petites miniatures, initiales historiées, décoration marginale. Cachets de l'Université de Liège au f. 1r°. Cachet de la donation du Baron A. Wittert aux ff. 1r°, 25r°, 50r°, 75r° et 86v°.
Keyword:
Manuscrits modernes; Manuscrits à peinture; Enluminure; Livres d'heures; Office divin
CREF classification(s):
Théologie
Classification(s):
Arts & humanities => Religion & theology
Original object linked resource:
CICWeb - http://www.cicweb.be/fr/manuscrit.php?id=274
Organization that sponsored the digitization:
Fédération Wallonie-Bruxelles (plan PEP'S)
Other contributor(s):
Vergauwen, François Joseph (1801-1881) (former owner)
Wittert, Adrien (1823-1903) (former owner)
Part of:
Public domain
Permalink:
http://hdl.handle.net/2268.1/1533
Items in DONum are protected by copyright, with all rights reserved, unless otherwise indicated.