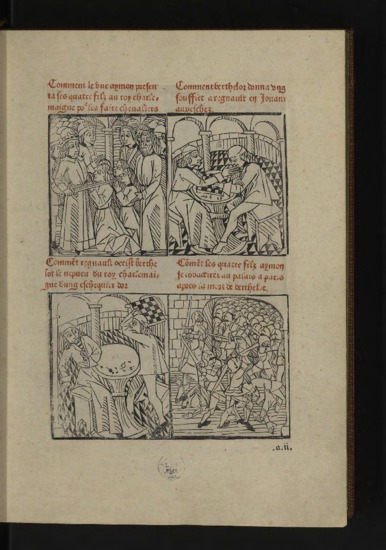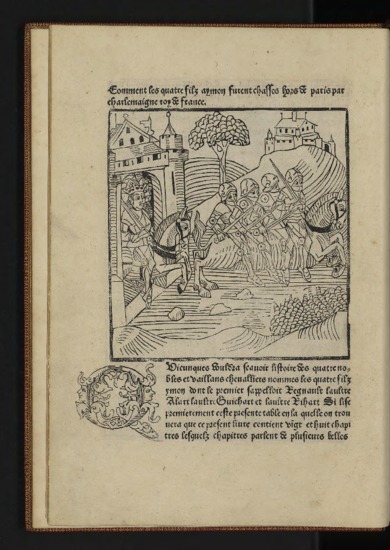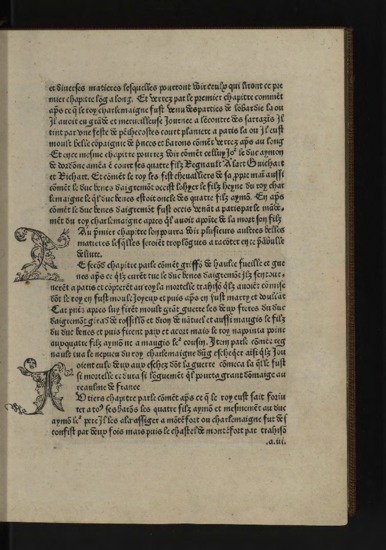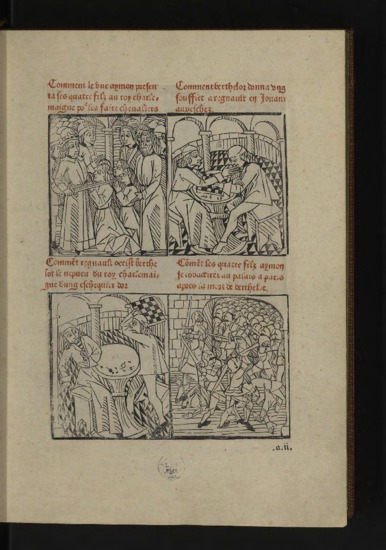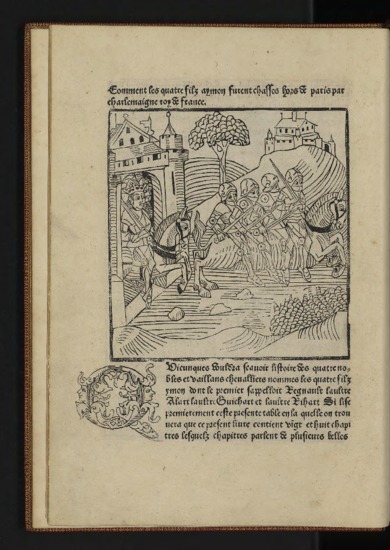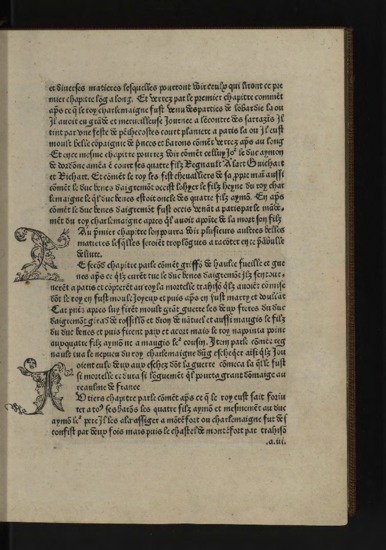 Histoire du noble et vaillant chevallier regnault de montauban.
Author(s), creator(s), collaborator(s) :
Type of the represented object : Incunabula
Détails
Collection:
Incunabula
Original object location:
Réseau des Bibliothèques
Uniform title :
Renaut de Montauban
Editor:
[Lyon] : [impr. de l'Abusé en court]
First publication of the original object:
15th century
Middle age (476-1492)
Place of creation of the original object:
Lyon (France)
Identifiant(s):
XV.B128 (cote ULiège)
700005698 (code-barres ULiège)
Original object language:
Middle French (ca. 1400—1600)
Description:
Titre pris à l'explicit
Mention de publication prise à l'ISTC
32 lignes ; caractères gothiques.
Signatures : a⁶ b-q⁸ r⁶ A-M⁸ N⁶
Gravures sur bois

Notes sur l'exemplaire: Incomplet : les feuillets 1 et 228 manquent (ULiège)
Reliure en maroquin rouge, signée Chambolle-Duru et datée de 1866. Roulette dorée d'inspiration XVIIe siècle avec, au centre, un écu portant l'inscription Bibliothèque de Mello. Tranches marbrées sous or. Contre-plats en maroquin rouge décorés d'une large dentelle dorée
Provenance(s): Acquisition par l'Université de Liège : Legs Baron A. Wittert 1903.

Empreinte: soes core laon unur (C) 1484 (Q) (exemplaire ULiège)
Material, support of the original object :
Papier
Physical description of the represented object :
[236] feuillets : ill. ; in-8.
Keyword:
Charlemagne (Emperor; 742-814) -- Romances; Renaud de Montauban (personnage légendaire); Chansons de geste
CREF classification(s):
Lettres
Classification(s):
Arts & humanities => Literature
Other contributor(s):
Imprimeur de l'Abusé en court (printer-bookseller)
Wittert, Adrien (1823-1903) (donator)
Part of:
Public domain
Permalink:
http://hdl.handle.net/2268.1/1316
Items in DONum are protected by copyright, with all rights reserved, unless otherwise indicated.