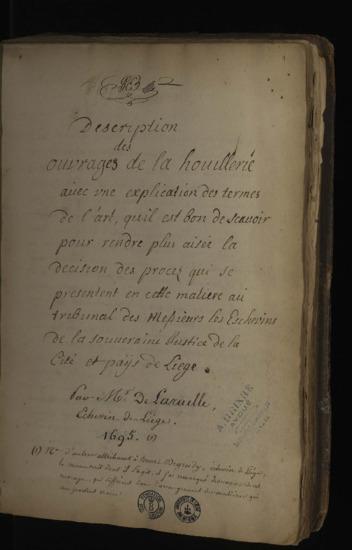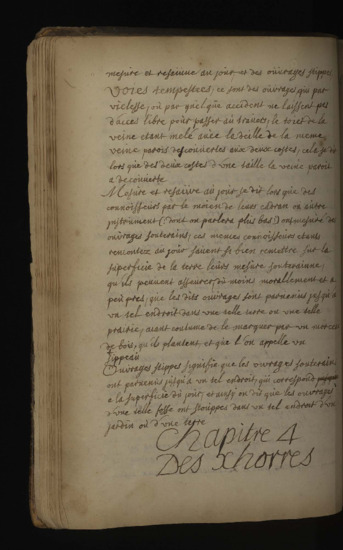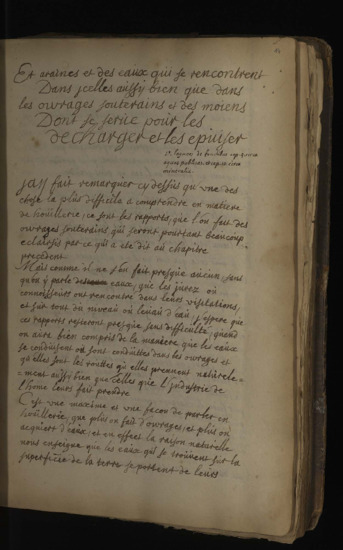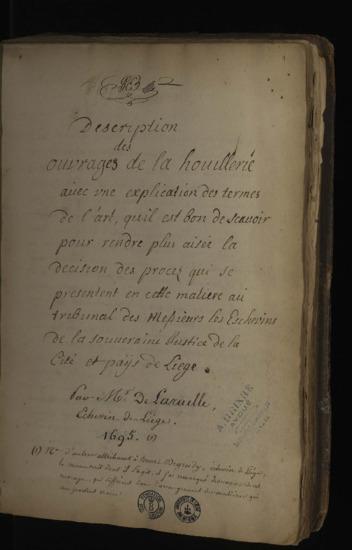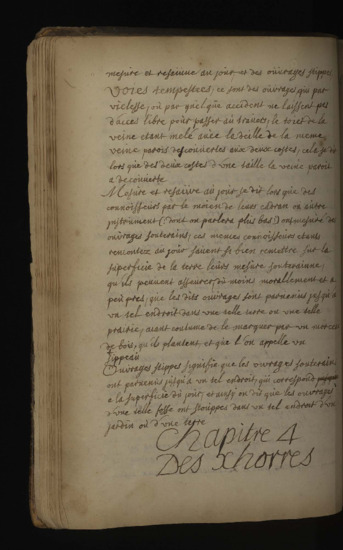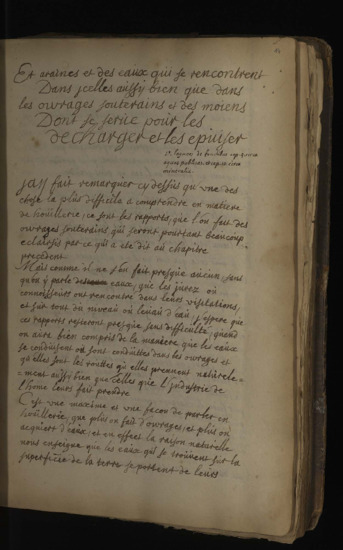 De Laruelle, Description des ouvrages de la houllerie avec une explication des termes de l'art, qu'il est bon de scavoir pour rendre plus aisée la decision des procez qui se presentent en cette matiere au tribunal des messieurs les eschevins de la souveraine justice de la Cité et paÿs de Liege par Mr De Laruelle, 1695.
Author(s), creator(s), collaborator(s) : De Laruelle; Degrady, Henri
Type of the represented object : Manuscript
Détails
Author(s), creator(s), collaborator(s):
De Laruelle (author)
Degrady, Henri (author)
First publication of the original object:
1695
17th century
Modern times (1492-1789)
Original object location:
Réseau des Bibliothèques
Identifiant(s):
Ms6300 (Cote ULiège) ; ALMA241921 (Code-barres ULiège)
Original object language:
French
Material, support of the original object:
Papier
Dimensions, weight or duration:
305 x 200 millimètres
Physical description of the represented object :
v, 152 feuillets
Description:
Provenance : cachet de A. Brixhe, avoué, bd de la Sauvenière,24 ; acheté par la Fondation Roi Baudouin à la vente de la Librairie Grommen le 14 décembre 1996 (n°476).

Demi-reliure XIXe siècle, plats de carton couverts de papier à la colle brun.

Le texte original serait probablement de Henri Degrady, échevin de Liège. Il existe beaucoup de copies de ce texte qui diffèrent dans l'arrangement des matières.
Geographical Location represent or evoke:
Liège (Belgique)
Keyword:
Manuscrits -- 17e siècle; Houille -- 17e siècle
CREF classification(s):
Métallurgie et mines
Classification(s):
Engineering, computing & technology => Geological, petroleum & mining engineering
Original object linked resource:
Opsomer (Carmélia). Aux sources de la Révolution industrielle. Bruxelles : Fondation Roi Baudouin, 1996.
Part of:
Public domain
Permalink:
http://hdl.handle.net/2268.1/11958
Items in DONum are protected by copyright, with all rights reserved, unless otherwise indicated.