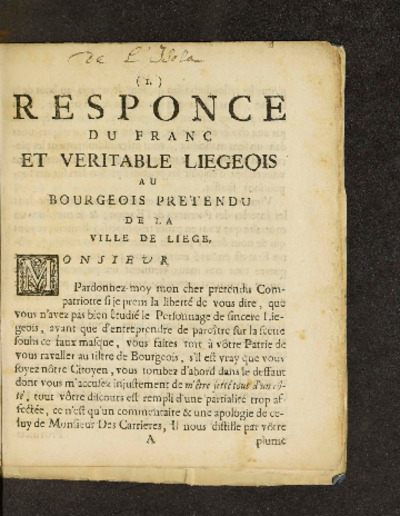 Responce du franc et veritable Liegeois au bourgeois pretendu de la ville de Liege.
Author(s), creator(s), collaborator(s) :
Type of the represented object : Book
Détails
Editor:
[Liège] [imprimeur non identifié]
Place of creation of the original object:
Liège (Belgique)
First publication of the original object:
[1674]
17th century
Modern times (1492-1789)
Original object location:
Réseau des Bibliothèques
Identifiant(s):
R16673B (Cote ULiège)
709603978 (Code-barres ULiège)
Original object language:
French
Material, support of the original object:
Papier 8°
Dimensions, weight or duration:
19 cm
Physical description of the represented object :
19 pages, 1 page non numérotées
Description:
Empreinte : ree- més- e-n- l'se (3) 1674 (Q)
Signatures : A-B⁴ C²
L'exemplaire à la cote R016673B à la bibliothèque Alpha-Site central est relié avec "Les sentimens d'un franc et veritable Liegeois sur les discours de M. des Carrieres touchant la neutralité du pays sur le discours de M. Des Carrieres touchant la neutralité du pays."
Geographical Location represent or evoke:
Liège (Belgique)
Keyword:
Brochures; Tensions internationales
CREF classification(s):
Histoire
Science politique et administrative
Classification(s):
Arts & humanities => History
Law, criminology & political science => Political science, public administration & international relations
Original object linked resource:
Theux, X. de. Bibliographie liégeoise (2. éd.) 278
Part of:
Public domain
Permalink:
http://hdl.handle.net/2268.1/10416

R16673B.pdf
Description
: Volume complet
Size
: 61.09 MB
Format
: Adobe PDF
Access type
: Open Access
Items in DONum are protected by copyright, with all rights reserved, unless otherwise indicated.