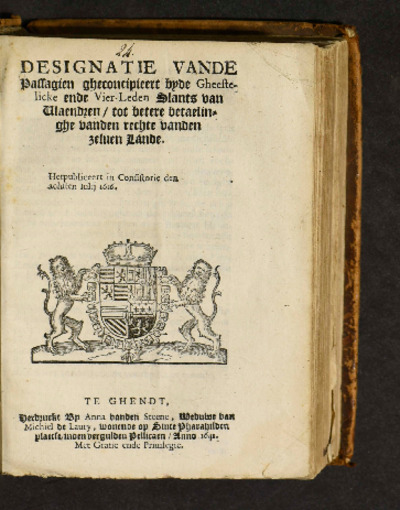 Designatie vande passagien gheconcipieert byde gheestelicke ende Vier-Leden slants van Vlaendren, tot betere betaelinghe vanden rechte vanden zeluen lande. Herpubliceert in consistorie den achsten iulij 1616.
Author(s), creator(s), collaborator(s) :
Type of the represented object : Book
Détails
Editor:
[Gand] Te Ghendt, herdruckt by Anna vanden Steene, weduwe van Michiel de Laury, wonende op Sinte Pharahilden plaetse, inden verguldeu Pelicaen, anno 1642. Met gratie ende privilegie.
Place of creation of the original object:
Gand (Belgique)
First publication of the original object:
1642
17th century
Modern times (1492-1789)
Original object location:
Réseau des Bibliothèques
Identifiant(s):
XXIII.24.7 [16°] (Cote ULiège) ; 700205010 (Code-barres ULiège)
Original object language:
Dutch, Flemish
Material, support of the original object:
Papier 4°
Dimensions, weight or duration:
19 cm
Physical description of the represented object :
4 feuillets non numérotés
Description:
Empreinte : n,n) l-I. e.cx hede (C) 1642 (A)
Signatures : A⁴
L'exemplaire à la cote XXIII.24.7 de la bibliothèque Alpha est relié avec "G. A. Brederoods angeniet. Vertoont op d'oude kamer in liefd'bloeijende, den xxij. October, 1623".
Geographical Location represent or evoke:
Flandre (Comté)
Keyword:
Brochures
CREF classification(s):
Bases générales de la science et de la culture
Classification(s):
Arts & humanities => Multidisciplinary, general & others
Part of:
Public domain
Permalink:
http://hdl.handle.net/2268.1/10118
Items in DONum are protected by copyright, with all rights reserved, unless otherwise indicated.