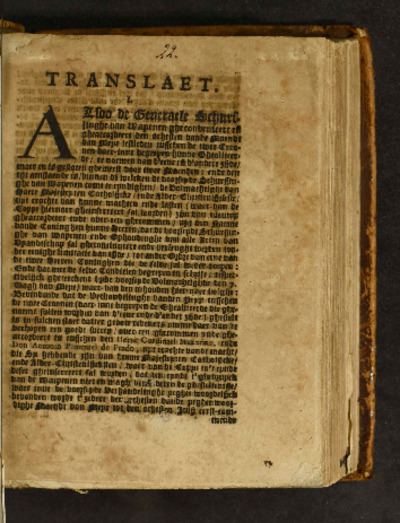 Translaet...
Author(s), creator(s), collaborator(s) :
Type of the represented object : Book
Détails
Editor:
[Gand] Te Ghendt : Ghedruckt by de weduwe ende d'hoirs van Ian vanden Kerchove, in het ghecroont Sweerdt. 1659. Met gratie ende privilegie.
Place of creation of the original object:
Gand (Belgique)
First publication of the original object:
1659
17th century
Modern times (1492-1789)
Original object location:
Réseau des Bibliothèques
Identifiant(s):
XXIII.24.7 [16°] (Cote ULiège) ; 700205010 (Code-barres ULiège)
Original object language:
Dutch, Flemish
Material, support of the original object:
Papier
Dimensions, weight or duration:
19 cm
Physical description of the represented object :
6 feuillets non numérotés
Description:
Empreinte : m-r- ope- fnn- unr- (C) 1659 (A)
Signatures : A⁴ B²
L'exemplaire à la cote XXIII.24.7 de la bibliothèque Alpha est relié avec "G. A. Brederoods angeniet. Vertoont op d'oude kamer in liefd'bloeijende, den xxij. October, 1623".
Keyword:
Brochures
CREF classification(s):
Bases générales de la science et de la culture
Classification(s):
Arts & humanities => Multidisciplinary, general & others
Part of:
Public domain
Permalink:
http://hdl.handle.net/2268.1/10116
Items in DONum are protected by copyright, with all rights reserved, unless otherwise indicated.